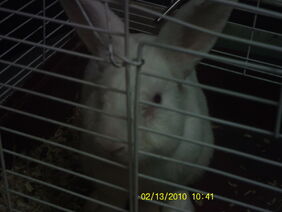 Camaro Rongoly Nichols
(Often called Buddy), is a New Zealand White rabbit currently residing in
Tioga, Pennsylvania
. He was born in early 2010, and has been living in the same house ever since. He is owned by
Brandon Nichols
. 
Camaro was only three weeks old upon purchase at Holly's Hounds in the Arnot Mall in Big Flats, New York. His owner, Brandon Nichols, was looking for a new pet to replace his recently deceased rabbit, Caramel (pronounced kar-mel). He stumbled upon then-unnamed Camaro's pen, which also had some guinea pigs and other New Zealand White rabbits. He grabbed Camaro, and decided to buy him. He then named him after the Chevrolet Camaro, his favorite car. He has lived with at least three other rabbits, Rhea, Michael, and Danny. 
Camaro is usually only active upon exiting his cage. Other than that, Camaro is very shy, and usually doesn't like to cuddle. He can be very active, and likes to hide under beds, and even occasionally hides beneath a heater.
Camaro loves to eat lettuce, and also eats carrots and celery, although less frequently. Other than that, he eats plain rabbit pellets. 
Ad blocker interference detected!
Wikia is a free-to-use site that makes money from advertising. We have a modified experience for viewers using ad blockers

Wikia is not accessible if you've made further modifications. Remove the custom ad blocker rule(s) and the page will load as expected.