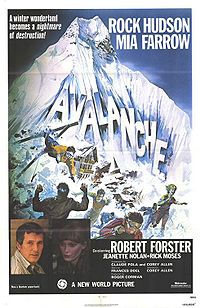 &nbsp
Template:Infobox film Avalanche is a 1978 American disaster film, directed by Corey Allen and starring Rock Hudson, Robert Forster, Mia Farrow and Jeanette Nolan. The taglines for the film included "A Winter Wonderland Becomes A Nightmare Of Destruction" and "Six Million Tons Of Icy Terror." Many avalanche scenes in the film were actually stock footage; parts of this film's avalanche scenes were in turn utilized as stock footage in the film Meteor.[1]
Production
Edit
The film was filmed at a ski resort in Durango, Colorado.[2]
References
Edit
External links
Edit
es:Avalancha (película) pt:Avalanche (filme) it:Valanga (film)
Ad blocker interference detected!
Wikia is a free-to-use site that makes money from advertising. We have a modified experience for viewers using ad blockers

Wikia is not accessible if you've made further modifications. Remove the custom ad blocker rule(s) and the page will load as expected.