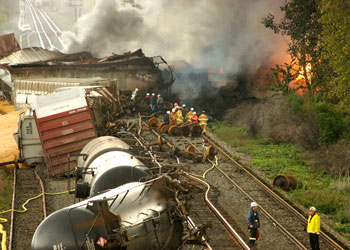 February 10, 1964: 10 Japanese suicide bombers bomb a train heading through downtown fictional Canner City, Virginia, killing 660 people; 87 on the train, and 573 civilians. Many fires were started from falling debris throughout the city, and debris was found buried in the ocean at least 5 miles out. Debris was scattered for at least 16 miles outside and inside the city. 23 buildings suffered damage form either the train, or fire. 14 were severely destroyed. A memeorial has been set up near downtown Canner City in a park. The park consists of a playground, a picnic area, a small fish pond, some pavilions, and the only train car that suffered no damage. No one is allowed on it, but, people are allowed to leave flowers. A large stone monument about five feet tall, and 23 feet long stands next to the train car. City officials are planning on moving the train car inside because of all the weather over the years. Hurricane Casey swept through, but, downtown was not flooded out, so, the park still stands. The train was moved inside a museum just three weeks before the hurricane. The new museum is planned for completion on December 3, 2012.
Ad blocker interference detected!
Wikia is a free-to-use site that makes money from advertising. We have a modified experience for viewers using ad blockers

Wikia is not accessible if you've made further modifications. Remove the custom ad blocker rule(s) and the page will load as expected.