Ad blocker interference detected!
Wikia is a free-to-use site that makes money from advertising. We have a modified experience for viewers using ad blockers

Wikia is not accessible if you've made further modifications. Remove the custom ad blocker rule(s) and the page will load as expected.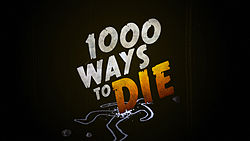 Template:Infobox television
1000 Ways to Die is an American documentary television series that premiered on May 14, 2008 on Spike. The program recreates unusual deaths and includes interviews with experts who describe the science behind each death. Up until season 3, the final story of each episode showed actual footage of dangerous situations that almost ended in death, along with interviews with people involved in the situations.
Stylization
Edit
1000 Ways to Die takes a tongue-in-cheek approach to death through its presentation of stories derived from myths, science and real-life incidents. It portrays the deaths utilizing live-action recreations of the events along with expert and sometimes witness testimony, also using CGI animations, similar to those used in the popular television show CSI, to illustrate the ways people have died. A narration provides background information within each death-story, which all end with titles that are puns on popular figures of speech.
Main article: List of 1000 Ways to Die episodes
| Season | Episodes | Premiere Date | End Date |
| --- | --- | --- | --- |
| Pilot | 2 | May 14, 2008 | May 21, 2008 |
| Season 1 | 10 | Feb. 8, 2009 | Apr. 5, 2009 |
| Season 2 | 12 | Dec. 6, 2009 | Feb. 24, 2010 |
| Season 3 | TBA | Sept. 14, 2010 | TBA |
External links
Edit